Once you've decided to seek professional help with your financial planning, the next question that comes to mind is usually "Do I need a financial advisor or a financial planner?"
Read on to learn the difference between each as well as next steps you should take on your journey to improve your finances.
What Is a Financial Advisor
?
A financial advisor is a professional who helps clients with a wide range of financial services.
Many people have an idea of a financial advisor as someone who executes trades on behalf of their client, but they're usually responsible for much more. Advisors often (but not always) provide comprehensive financial planning and investment management and offer tax advice, budget planning, and even insurance strategies to maximize their client's retirement nest-egg. But some financial advisors have singular specialties, such as taxes or insurance.
What Is a Financial Planner
?
While many financial advisors offer financial planning, financial planners only work within that area. Financial planners help their clients with topics like:
Analyzing budget and spending habits to find areas where a client could trim expenses.
Helping to create short-term and long-term savings strategies.
Reviewing retirement goals and helping to build a savings plan to meet those goals.
Offering advice on how best to save and pay for college.
In short, a Financial Planner helps clients make a comprehensive financial plan without specializing in any one specific area.
Do I Need a Financial Advisor or a Financial Planner
?
If you need help with a specific topic like taxes or insurance, you should seek out a financial advisor that specializes in those areas, but if you are really interested in setting up a comprehensive retirement plan, then either a financial planner, or a financial advisor that offers financial planning are both a good choice. Your best bet is to speak with a few potential advisors/planners to find out what they offer.
So, What's Next
?
SmartAsset's free advisor matching tool makes it easy to find a vetted financial advisor so you can make an informed decision and choose one that best suits your individual needs. And, all of the advisors on SmartAsset's platform are registered or chartered fiduciaries, meaning they're obligated to act in your best financial interest. The whole process only takes a few minutes.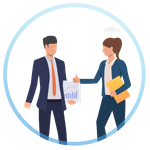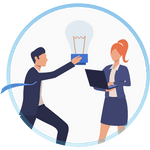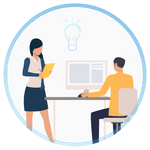 Click Your State to Get Matched With Financial Advisors Who Serve Your Area
After you choose your state and answer a few questions, you can compare up to three advisors who serve your area and decide which to work with.
1
Complete SmartAsset advisor matching quiz
2
Review your pre-screened matches
3
Speak with advisors at no cost to you